Products and Services
Mobile Services
Jobsite or yard cleanups? We have whatever it takes to get the job done right!
At Mryglod Steel & Metals Inc, we operate some of the largest scrap metal shears in the province. Many pieces of scrap are simply too big to be easily reprocessed, so it's necessary to shear and reduce the size of the metal by cutting. Along with our magnets, grapples and mobile baler/logger, we can handle any clean-up or demolition project you may have.
We have recently added a new car crusher to our fleet to meet the needs of our customers in the auto wrecking industry.
We also own and operate a fleet of trucks and trailers ranging from flat decks, lowbeds, end dumps and Super-B Trailers to ensure all of our projects are performed in the most efficient way possible.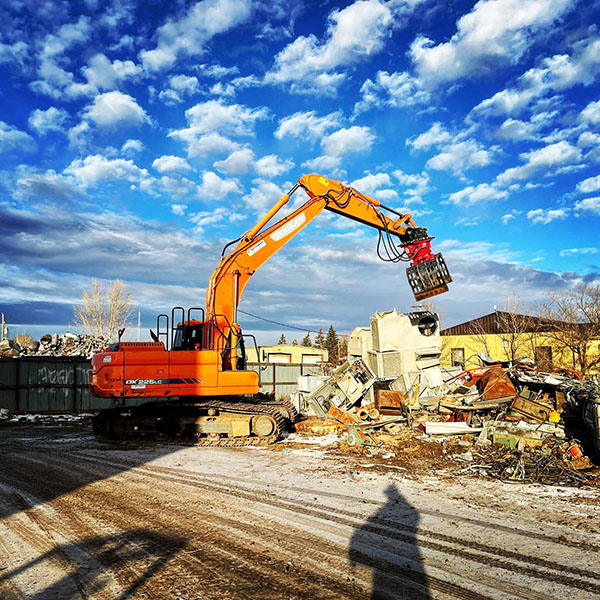 Recycling/Reuse
Our staff's knowledge and experience gives us an edge over our competitors and helps us recycle your material efficiently, using the latest technology and high-end equipment. We take pride in contributing to a better environment through steel & scrap metal recycling, saving energy, and conserving natural resources. Reducing landfill waste and using the latest technology, we make our environment cleaner.
The metal recycling we do, processes used materials into new products to prevent waste of potentially useful materials, reduce the consumption of fresh raw materials, reduce energy usage, reduce air pollution (from incineration) and water pollution (from landfilling) by reducing the need for "conventional" waste disposal, and lower greenhouse gas emissions as compared to virgin production.
Mryglod Steel & Metals Inc. collects, processes, recycles, trades, and brokers ferrous and nonferrous metals. We purchase the scrap metal we have available from industrial manufacturers, railroads, auto salvage yards, metal dealers, and individuals. Obsolete machinery and structures are often the source of these metal materials. We also work with power and cable companies and major highway construction groups. Our metal is processed by sorting, shearing, shredding, torching, and baling.
Some interesting facts.
One ton of recycled steel saves 642 Kwh of energy, 1.8 barrels of oil, 10.9 million Btu's of energy, and 4 cubic yards of landfill space. The processing of recycled copper requires much less energy than the processing of new copper from virgin ore, providing a savings of 85–90 percent of energy requirements.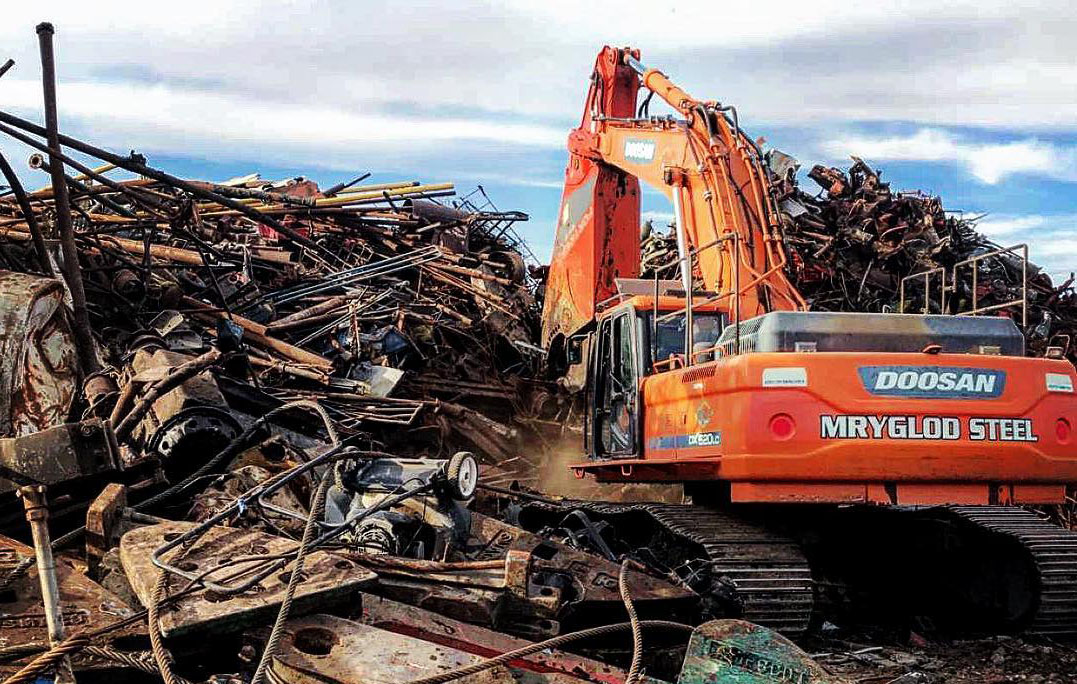 Scrapyard
At Mryglod Steel & Metals Inc, we have 3 large scrap yards in Weyburn, Estevan and Regina that are easily accessible for even the largest of loads. 
We are capable of unloading up to 35,000lbs in one lift within our yard. Our weights & measures certified scale and friendly staff give our customers the peace of mind they deserve out of their local family-owned & operated scrap yard.
All of our locations are now operated with state-of-the-art scrap management software. This software provides consistent and accurate reporting of prices and tickets and even has a customer portal where our customers can log in and see their tickets in real-time.
If you would like to get set up with the customer portal, please contact Travis at the Weyburn location.
Operations
At Mryglod Steel & Metals' all scrap material that we purchase, will be processed to its purest form, and packaged for resale to a mill or foundry that will smelt that scrap for recycling. Depending on the type of scrap metal, we will shear, bale, strip, chop, disassemble, or granulate it to bring it down to its purest form. All these processes are completed in-house by our knowledgeable and experienced staff, and our long list of purpose-built equipment.
All scrap material that we purchase, will be processed to its purest form